News Archive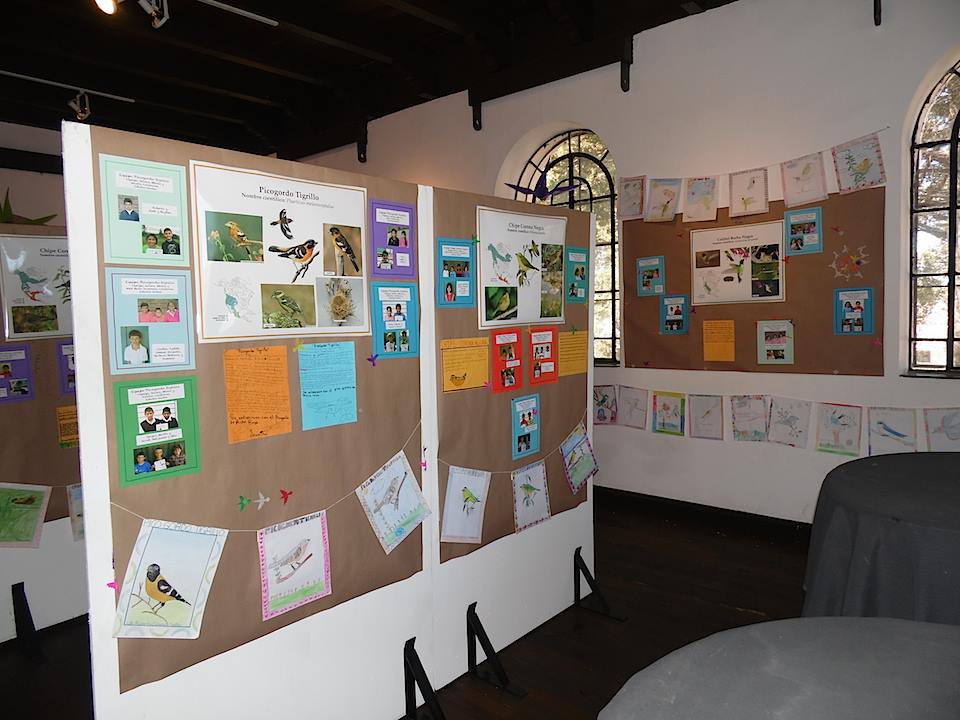 Second Exposition of Amigos Alados in Tapalpa, May 2015
July 16, 2015
To celebrate International Migratory Bird Day and our eighth year of Amigos Alados, we opened an exhibition entitled Amigos Alados and the Birds of the Sierra de Tapalpa in the Cultural Center in Tapalpa on May 2, 2015. The exhibition showed information about each of the 16 birds that Amigos Alados participants study, photos of the bird teams that the students formed with students from their partner classes in California, close to 260 drawings of the 16 birds, and information about the incredible migratory journey and the dangers the birds face along the way, as well as about the tri-national conservation effort between Canada, the United States and Mexico to protect birds and their habitat. Students shared what they have learned from Amigos Alados and what they like most about the program. Two of their favorite things were to exchange letters with their team members in California and to go bird watching. Also, they enjoyed the visits of Ornithologist Sarahy Contreras and her students from the Southern Coast University Center (CUCSUR) of the University of Guadalajara who presented engaging, hands on lessons about the life of birds. Other elements of the exhibition were a bird wing poster, more than 4 meters wide, to compare the wingspan of birds with the extension of our arms. Many of the adults who tried it almost equaled the wingspan of the Turkey Vulture. The exposition also featured an area dedicated to all the birds that have been observed in the Sierra de Tapalpa, including a large poster with photos and the birds' common names in Spanish and English and their scientific names. Over 600 adults and children visited the exposition.

---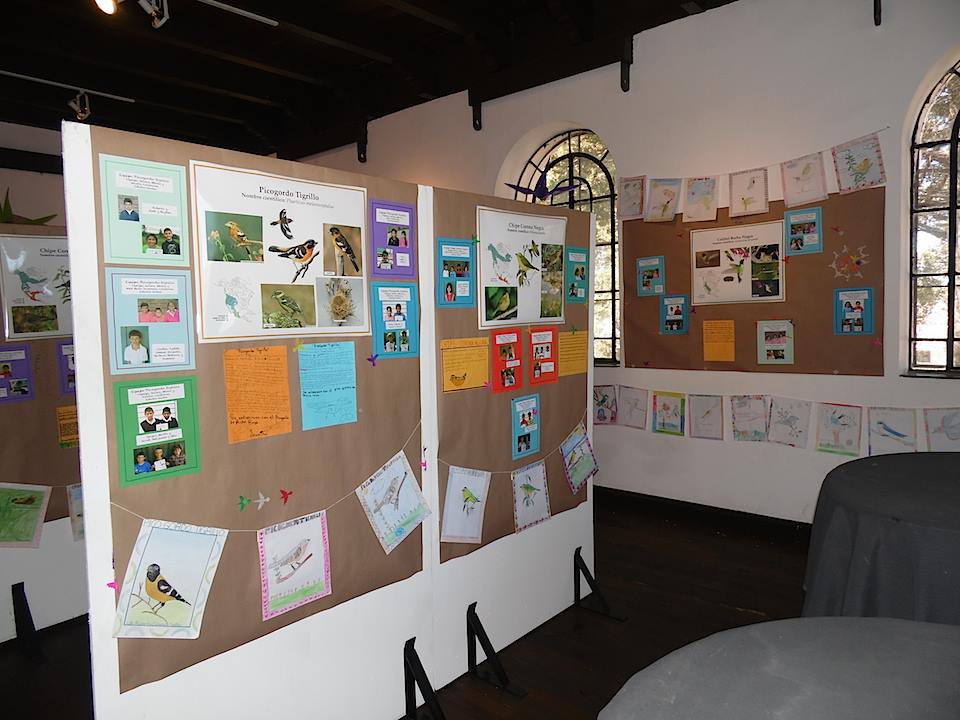 Segunda exposicion Amigos Alados en Tapalpa
July 13, 2015
El primero de mayo 2015 inauguramos la exposición Amigos Alados y las Aves de la Sierra de Tapalpa en la Casa de Cultura en Tapalpa. Con esta exposición celebramos el Día Internacional de Aves Migratorias y nuestro octavo año de Amigos Alados. En la exposición había información sobre cada una de las 16 aves que estudiamos con Amigos Alados, fotos de los equipos que formaron los estudiantes con las clases compañeras, casi 260 dibujos de las 16 aves, mucha información sobre el increíble viaje de la migración, los peligros de las aves y los esfuerzos trinacionales para la protección de sus vidas y hábitat. Los estudiantes compartieron lo que hubieron aprendido con Amigos Alados y qué era lo que les gustaban más del programa. Una de sus cosas favoritas era escribir a y recibir cartas de sus miembros del equipo en California - e ir a observar aves. También les gustaban mucho las visitas de la Ornitóloga Sarahy Contreras con sus estudiantes del Centro Universitario de la Costa Sur (CUCSUR), y aprender sobre la vida de las diferentes aves. Otros elementos de la exposición eran una lona de más de 4 metros de ancho para comparar la envergadura de las alas de las aves con la extension de nuestros brazos. Muchos de los adultos que lo intentaron llegaron casi a las alas del Zopilote Aura. Había también una área dedicada a todas las aves que habían sido visto en la Sierra de Tapalpa, en la que hay un cartel grande con fotos e información de los nombres comunes de estas aves en español, los nombres científicos, y los nombres en inglés. Más de 600 niños y adultos visitaron la exposición.

---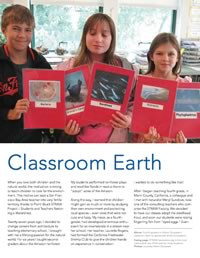 Classroom Earth
April 29, 2015
When you love both children and the natural world, the motivation is strong to teach children to care for the environment. This motive can lead a San Francisco Bay Area teacher into very fertile territory, thanks to Point Blue's STRAW Project - Students and Teachers Restoring a Watershed.

Document: Classroom-Earth-article-from-Fall-2014-Point-Blue-Quarterly.pdf

---
Birdwatching in Sayula, Jalisco
May 01, 2011
Third grade students of Gerardo Avalos Gonzalez (school year 2010 - 2011) in Sayula, Jalisco, enjoyed lessons and bird walks with ornithologists Juan Loera Casillas and Luz Rodriguez Parga. Mr. Avalos Gonzalez commented about his students: \"...les encanto salir a observar las aves y descubrieron muchas cosas hasta el ultimo dia de clases. Me estuvieron comentando que fue una experiencia muy satisfactoria y de que siempre cuidarán las aves,\" or in English, his students \"love to go out to observe birds and they discovered many things up to the last day of classes. They were commenting to me that it was a very satisfying experience and that they will always protect birds.\"

---
Manor School Students Migrate
April 01, 2009
When the cliff swallows head south in Fairfax at the beginning of the school year, most of the community forgets about them until spring. But not Mrs. Honda's third-grade class at Manor School. The class has been participating in Amigos Alados, a program that pairs local kids with students in the region of Mexico where the birds migrate during the winter. The students write each other letters and study the birds and their migratory patterns. "It's the same birds," said Laura Honda, their teacher. The program determined there are eight species of birds that travel between the two regions, including the cliff swallows that nest at Manor. During the fall, the students take bird walks around the campus and up to Lake Lagunitas. Each student chooses a specific species of bird as a "life bird." One little girl was excited to choose the Wilson warbler as her bird. The students keep a look out for their birds as they return between February and April. Along with learning about the birds, the students have learned about the problems they face. While there are laws to protect nesting birds, there aren't many laws that protect migratory birds. A Nevada City school was fined $1,125 after putting nets around its building to stop birds from nesting and a number of cliff swallows died. "They don't appreciate them," said Honda. "We don't mind a little bird poop." The students at Manor took the story particularly seriously and wrote a number of letters to encourage people to welcome the birds back this spring. Wrote Gabriel Whooley: "We are thrilled when the cliff swallows come back to Manor School. I also like seeing the birds with beakfuls of mud. Do you know that it takes 1,000 mud balls to make one nest?" "These little birds fly thousands of miles and they are only 6.5 inches long," wrote William Sibbett. "So please keep the nests up. It is like you build a home and it took a long time to do it. So then you go on vacation. Then you come home and your house is not there. They are so cute and they eat all the mosquitoes."

---
Manor School Sends Books to Tapalpa
February 01, 2009
In February 2009 Laura Honda and her class at Manor School donated money to purchase 33 books in Spanish for students in the town of Tapalpa. The schools and the citizens of Tapalpa own very few books, which are expensive in Mexico. Children usually have none other than their schoolbooks. A raffle was held in class to determine the order in which students could choose a book to keep as their own. Picture books went first! These photos show the delight of the children to see the gift books from their American penpals. A couple of Harry Potter books were donated to the school library for all to borrow. The new books will surely help to inspire a delight in reading.

---